Securing any site is easy with a top tier wireless2 alarm system. In the past, setting up a top grade wireless security system meant spending hours running cables, but today, you can easily do the job in minutes, smart devices. No more wires means no more hassle. These simple solutions to home security are great for anything from small home installs to handling large scale commercial requirements.
The best wireless alarm systems connect directly to your wifi and can be easily linked to mobile devices. With wireless alarm systems you can go on holiday or to work knowing that if anything happens at home you'll know about it immediately.
We're going to look at the very best wireless alarm systems out there and, just to make sure you don't get fooled, we'll tell you about the worst ones too.
When looking for the best wireless alarm brand in the UK the most important thing will be checking the grading system. Currently wireless alarms can only have a maximum of a grade 2 rating. This is largely due to legislation not keeping up with technology and it's only a matter of time till there are ways for it to gain grade 3 status. That said the best wireless alarms, do tend to have grade 2 ratings.
---
Ajax - Best Wireless Alarm Overall
---
Ajax is the fastest growing wireless alarm company in the UK with both installers and customers loving the product. It's stunning, it's effective, and offers Grade 2 wireless security meaning it's at the top tier of wireless security systems and right now, nothing comes close to it. This is by far the best wireless alarm brand in the uk.
Automatic integration with most CCTV camera brands

Including UNV, Hikvision, and Dahua

Top models: Motion Cam and Motion Cam Outdoor
Straight-forward setup and easy to use
Beautiful design
---
Why Ajax Is Our Top Wireless Alarm
---
Ajax looks great, almost everyone at CCTV direct has an Ajax Alarm in their own home. They look fantastic and suit most houses and home environments well. Keeping design at the forefront of the product the white version is typically incredibly popular for indoor use.
Each of the units has been designed to be sleak and fashionable, without taking up too much space.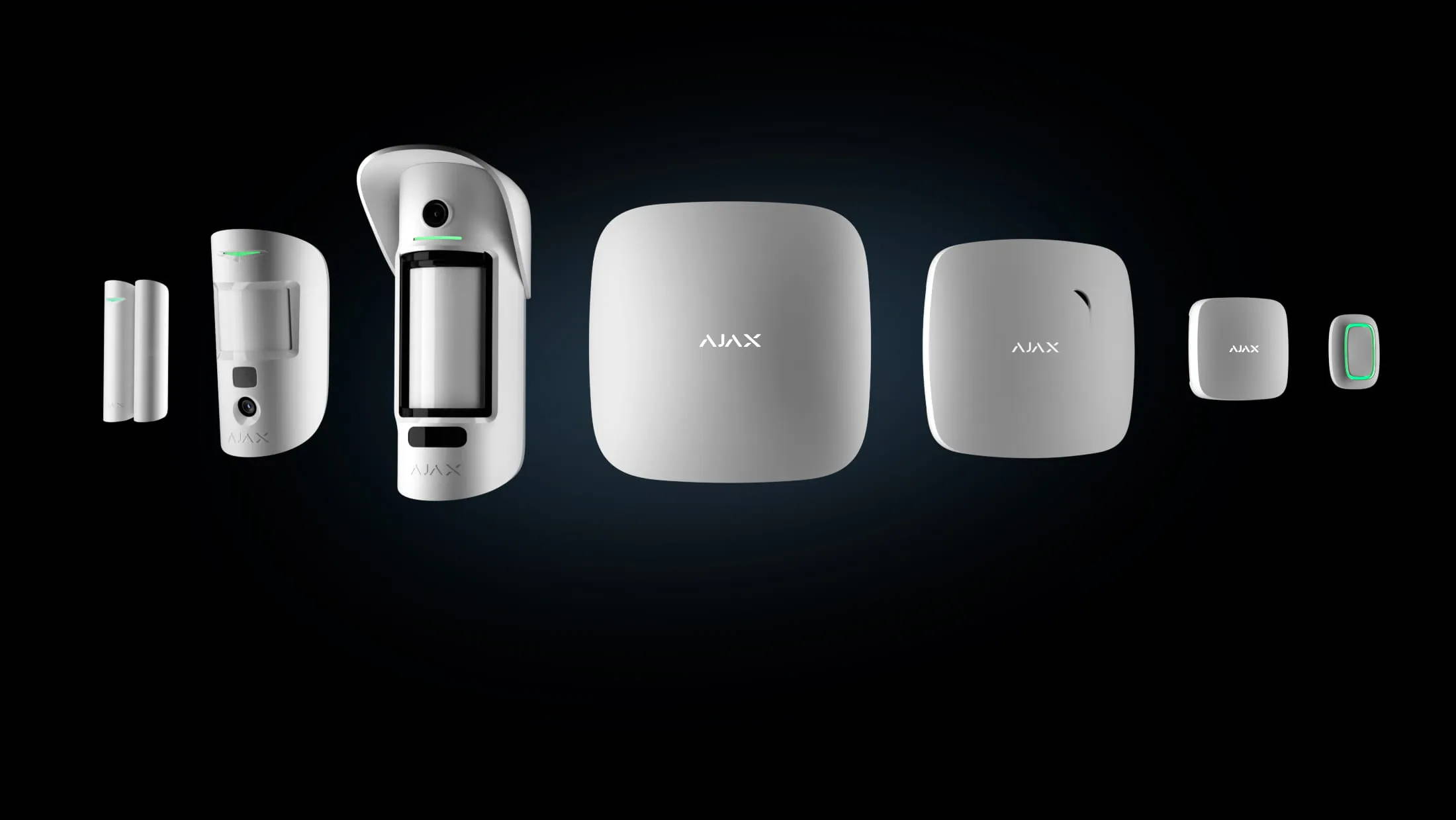 ---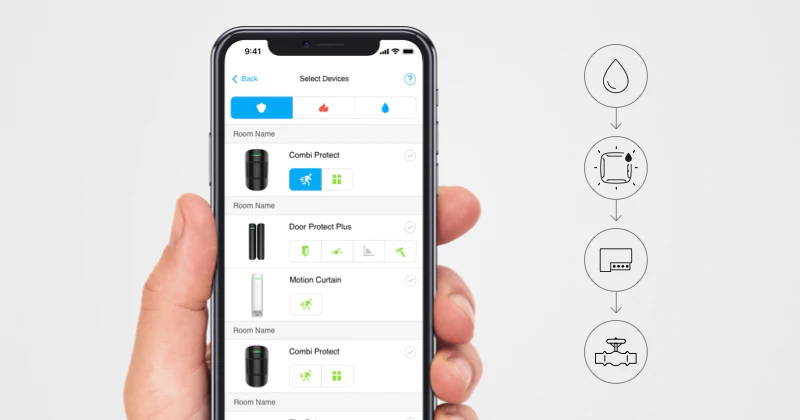 It's User Friendly And Takes Seconds To Install
All your home security can be handled from a single app. Multiple users can be added and it can double as a fire, leak, heat and smoke alarm, meaning everything can handled with just one system. It can even be part of a smart home system, or have switches and sockets added so you can control your entire home from just one hub.
Installing only takes seconds, it's as simple as downloading the app and selecting the room and scanning your QR code to permenantly map that Ajax sensor to your hub.
---
Military Grade Encryption And Protection
Not only is the encryption on this grade 2 system next level, it has multiple anti tampering measures. All of the peripheral sensors will alert your phone in miliseconds if disconected from the main hub or if they stop working. The hub connects via both by wired internet connection and 4g meaning it would take cutting your internet and jamming the signal down to the milisecond to bypass their alarm system.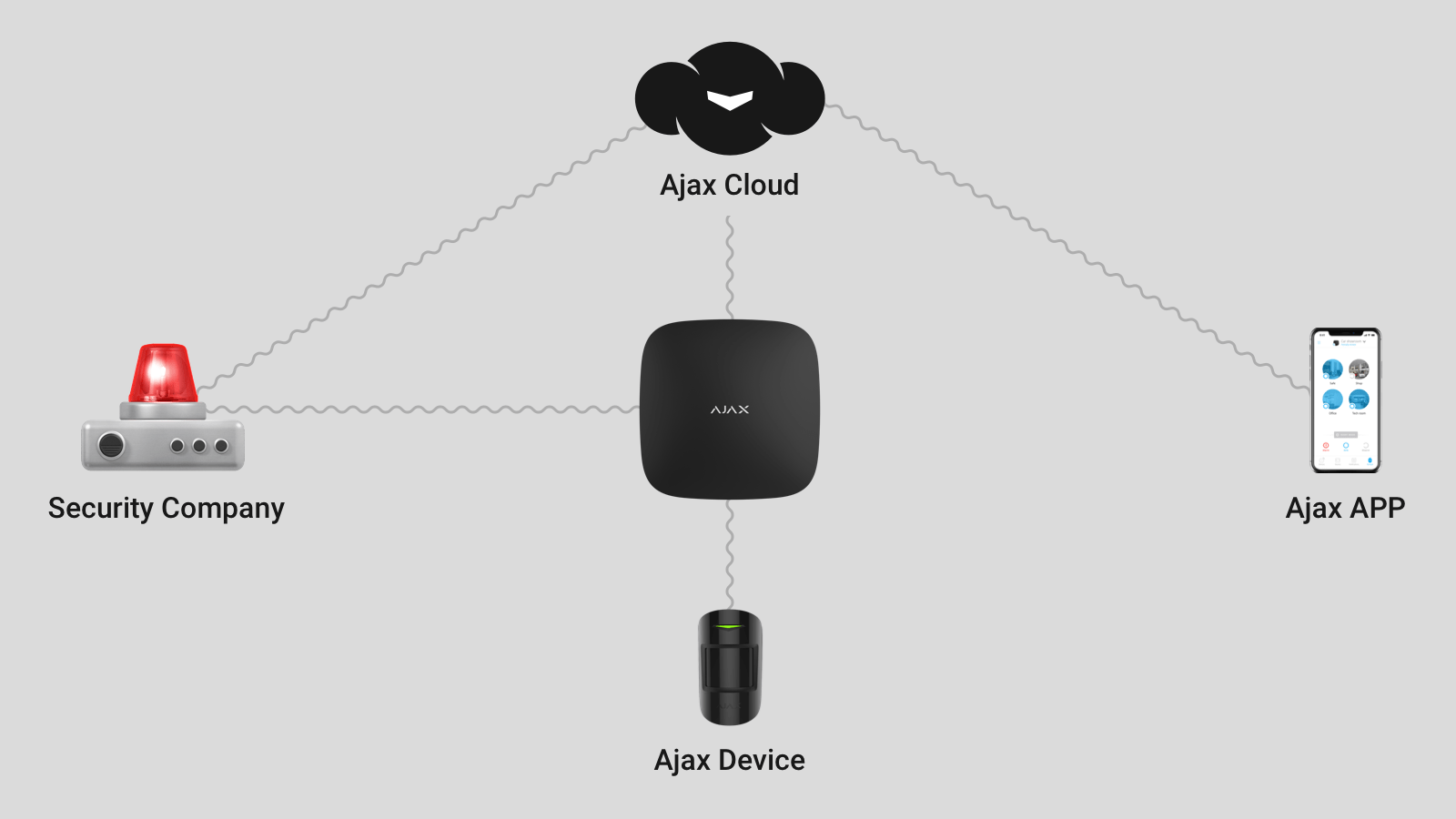 ---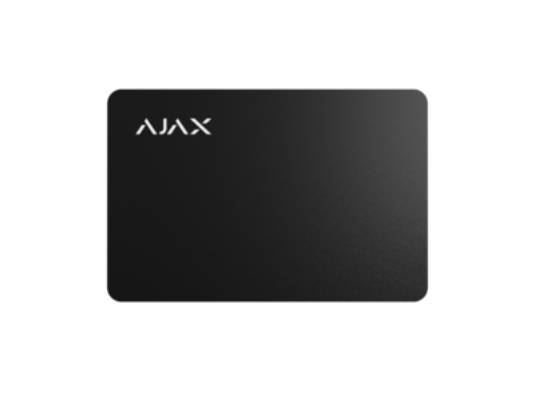 It's Good For Commercial Buildings Too
Since Ajax introduced Tags and Passes, there keypad systems can be set up to work with 100s of users, and these users can be given different levels of access to multiple sites in seconds.
The tags (or fobs) work in the same way, giving Ajax real viability as the best commercial wireless alarm. The proffessional version of the application also offers the ability to view and monitor alerts from multiple sites at once from desktop or from mobile.
---
3 Year Battery Life On Motion Cameras
The motion cameras are incredibly popular, this device won multiple awards on it's release and now comes in an outdoor version as well, which is briliant for secuiring sheds and garages. Adding additional motion detection and image verification takes seconds.
We love that once you buy Ajax it's very easy to add extra security without having to shell out all at once.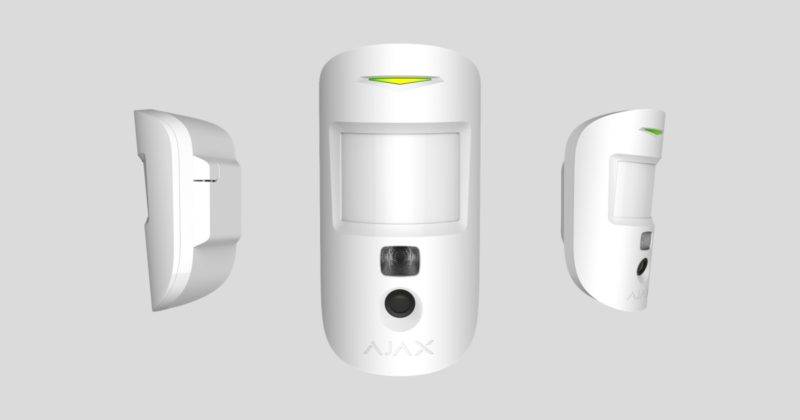 With a sleek design, sophisticated smart features, reliable hardware, and easy installation, Ajax wireless alarm systems are our top pick.
Setting up your Ajax alarm system requires a mobile app, which you pair with your Ajax alarm components by scanning a QR code located on the back of each detector.
Ajax offers a range of security devices including motion detectors, door contact detectors, and internal and external sirens.
Our favourite model is the MotionCam, of which there is an indoor and an outdoor version. At first glance, MotionCam looks like any other motion detector, but on closer inspection, you can see it is also equipped with a small, discreet camera.
When the motion detector picks up movement, the camera is activated, instantly snapping pictures of the intruder. These pictures will be sent to you immediately, giving you the chance to determine whether the alarm is real or false before responding. The camera is able to distinguish between humans and animals, so you won't be getting false alarms triggered by your pets. They also have great commercial functionality with 100s of passes and tag fobs being able to be used across and individually set for multiple sites.
Ajax can also tell the difference between pets and humans, using multiple angles of sensors, it won't go off because someones dog walked through in front of the sensor.
Because the MotionCam detectors only start snapping pictures when the alarm is triggered, you won't have to live under constant CCTV surveillance inside your own home. Unlike other brands, that require batteries to be changed every few months, MotionCams have an incredible three-year battery life.
---
---
Luminite - Best Wireless Alarm System For Commercial Use Or Large Areas
---
Long-distance motion detection
Compatible with multiple NRVs
Great range of free standing beams to create large perimiter security eaily.
Next up we have Luminite alarm systems, our top pick for securing large areas, such as a construction sites, farms or parking areas.
---
Luminite Wireless Alarm Product In Focus
---
Luminite's Occuli HD detectors boast a superb range of visual veriffication — up to 15m. They can also be solar powered and are functionally plug and play with existing security systems. They integrate well with older products which is an advantage they have over Ajax when it comes to commercial alarm installations.
When it comes to range, Luminite wins out slight compared with the MotionCam from Ajax, which has a range of 12m. While the Ajax MotionCam, with its sleek design and sophisticated features, is great for home security and still a solid choice for commercial installs, Luminite is ideal for surveilling larger areas and the addition of solar powering options makes it that bit more viable as the best wireless alarm system for farms and construction sites.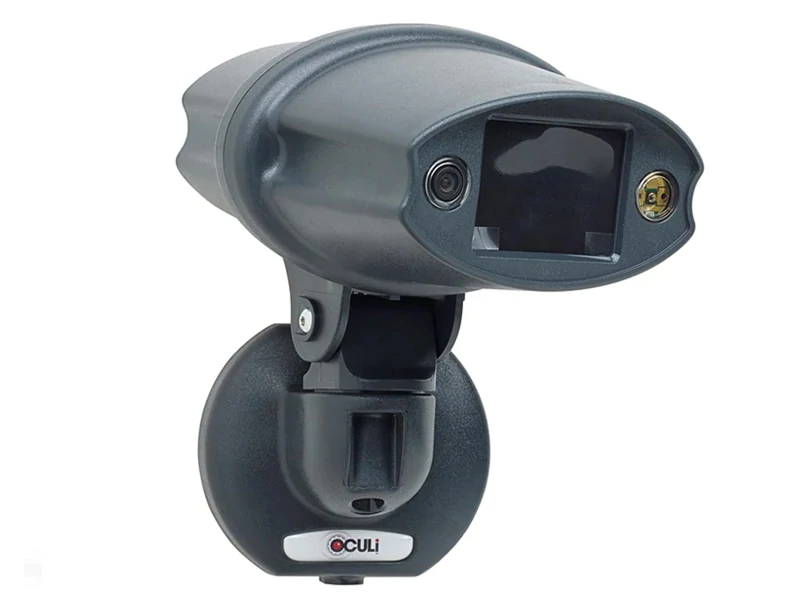 ---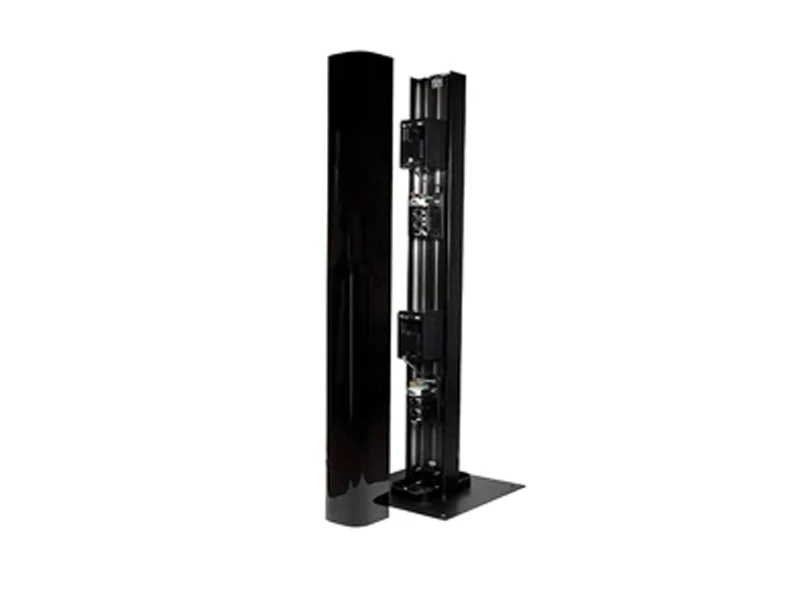 Luminite's beam towers as we mentoned are the big reason why it wins our award for best large scale wifi alarm. it could also have won best temporary alarm system for this reason too. With the beam towers being fully battery operated, free standing, and offering 100m ranges in both directions this is the ultimate in perimeter security. With multiple frequencies to avoid cross talk between each beam, Luminite's genesis beams offer a level of protection for sites that need the best security set up, quickly and efficienty.
Luminite products don't come cheap however, so this really isn't a good wireless alarm for home environments.
The Luminite Genesis 2 low-range motion detector is also worthy of note. It is a top-of-the-range wireless Passive Infrared Sensor (PIR) detector featuring a two-year battery life, one-kilometre wireless range, sophisticated signal processing, and variable detection angles.
Lumite's wireless alarms also have a range of freestanding battery powered beams that are great for securiting perimeters, which is why it makes our best wireless alarm for industrial projects.
Additionally, Luminite motion detectors are compatible with most NVRs and are easy to integrate into an existing system.
---
---
Texecom - Best Wireless Alarm On A Budget
---
Reliable motion detection alarm systems
Texecom makes quality wireless alarm systems that are reliable but lack the top-end technological features offered by other brands. It is cheap, we don't typically recommend it, but if you absolutely cannot stretch your budget then it is an OK option.
We get asked about Texecom wireless alarms a lot at CCTV direct and it is one of the most popular systems in the UK. We don't recommend them as wireless alarms for homes, as the design is ugly and outdatd.
---
Their PIR motion detectors have a subtle, white design, and can detect motion up to 15m. Using Texecom's PetWise mode you can avoid false alarms caused by animals triggering the sensor. It doesn't work all that well though, we've seen it set off by birds, and even rats in one case. Most commonly it's set off by larger animals though, so it isn't a functional wireless alarm for farms, because cows and horses will set it off. This should be a domestic only option.
Texecom also provides door contact sensors that are small enough to conceal, offering discreet security, undetectable to intruders.
In short, Texecom wireless alarm systems are a simple, straightforward approach to home security. We would of course recommend Ajax instead in almost any use case, they're much better wireless alarm systems
---
Pyronix - Best Wireless Alarm For HikVision Customers
The main selling point of a pyronix alarm system is that it works with Hikvision, it's parent company. If you already have a Hikvision CCTV setup, then it is going to have the best integration of any wireless alarm system. This still doesn't mean it's the best option. But, in this one specific use case we can see that it can be the best choice.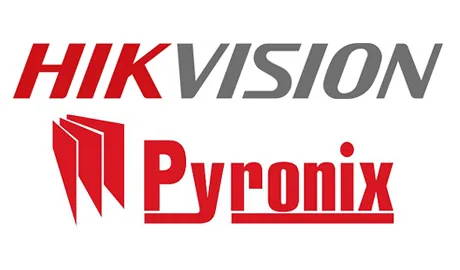 ---
If you already have a CCTV camera setup using Hikvision products, then a Pyronix wireless alarm system might be worth considering because they work well with Hikvision products.
Connecting the Pyronix control panel to a Hikvision NRV is easy, giving you control of your security system all in one place. Cameras, motion detectors, and alarms can all be managed centrally and be connected to your mobile device.
However, due to the technological simplicity of Pyronix wireless alarm systems, if you don't use Hikvision cameras then we recommend choosing Ajax instead. The Pyronix PIR detectors are sufficient but offer none of the advantages of Ajax's MotionCam.
---
The Worst Wireless Alarm Systems
---
Now that we have considered some of the best wireless alarm systems, let's take a look at two of the worst. These are systems we think you should avoid at all costs. Our main concern is their inability to do the very thing they are designed for: keep you safe.
Yale Wireless Alarms
- Poor Cybersecurity and Bad Service
A review of wireless alarm systems by consumer magazine Which? reported a serious security flaw in Yale's cybersecurity. There are also been service failures in the past that resulted in customers being unable to switch alarms on or off. Given this, it is unsurprising that multiple customers complain of poor service, confusing installation instructions, and compatibility issues in online reviews.
What's more, for the premium price Yale charges, you can get a much more sophisticated, easy-to-use alarm system from Luminite or Ajax.
Ring Products
- Terrible Cybersecurity
In 2020 a lawsuit was filed against Ring for leaving its cameras vulnerable to attacks from hackers who proceeded to blackmail, insult, and send death threats to their victims.
According to The Guardian, 30 people took part in the court case. The newspaper reported the story of one of the plaintiffs: he had been watching TV when a voice from his Ring home security camera asked him what he was watching.
Ring denies they were hacked, suggesting that login information must have fallen into the wrong hands through an attack on non-Ring services. This explanation offers little in the way of reassurance. Instead, it leads to more questions. Such as, why are Ring login credentials being stored on untrustworthy third-party services?
Choosing the Right Wireless Alarm System For You
Having reviewed the best (and worst) wireless alarm systems available, we hope you are now able to pick the one that is right for you.
Our top pick is Ajax. We love its technologically advanced features, particularly the MotionCam that collects pictures as well as detecting motion, and its sleek, modern design. Easy to install and easy to use, you simply can't go wrong with an Ajax wireless alarm setup. When picking the best wireless alarms we considered a multitude of factors, including the ease of use for the end user, how it looks, it's level of security, ease of install and more. Hands down we're always going to chose Ajax. There product is the fastest growing alarm system in the UK and for good reason. With military grade technology and it looks fantastic.